This one is coming after painfully long time. I was shocked to see that the last time I had put up an entry on this blog was on 5th of August last year. This made me sit back and think of about what had gone 'wrong'. There were few observations:
I had missed an entry for the car trip to Jog Falls (with Azmi, Gabbar and Ticklu)

I had not gone anywhere else after that and hence no new posts.

I was a bit too occupied to even come back

and check my Travelogue!
It was time to sanitize things...
Copy 'n' Paste S
tart
The start to this episode was identical to that of Malnad Trip. It all started of with a chain of mail until I was at Azmi's place. With Nandi Hills out of contention and Gopalaswami Betta being recently graced by Azmi, the options were limited. Either visit my Sis in Chennai, or pay tribute to a plac
e that was yet to be analyzed in detail. 12:15AM and we had finally zeroed upon the tallest of all
p
eaks within Deccan Platatue - Dodda Betta.
Fighting the Biting Cold!
12:30AM and we were on our way. The month of March had given us enough confidence in our jackets to pull through the night comfortably. This was probably the single biggest pothole that we overlooked! Even before we could hit Mysore Road, truth dawned in the middle of night - we were up against some seriously low temperatures and jaw rattling chill.
As the two of us took turns with control of Azmi's relatively new Pulsar150 DTSI (compared
to my antique 1st Gen 'original' P150), lookout for
chaiwalas
continued.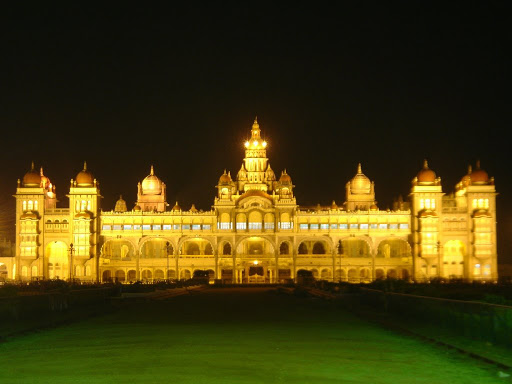 There was another problem that didn't help
much- the new Pulsar's dreaded head-light beam (As much as I adore Bajaj for impro
ving upon other features like shock absorbers, I detest the
m for making a mockery of a stupendous head light, giving way to all looks and no performance!). It was adjusted for solo riding, and n
ow with a pillion
on, we had no way to adjust the beam, save count the leaves of trees on either side of
road! The first thing I was su
pposed to do after getting back was to f
ind out the feasibility of beam adjustment... (I later found that its there on the right l
o
wer side, you need a long screw driver to reach it for the first time). After the customary photo shoot at Mysore Palace, we moved on towards Gundalpet...
Good Morning Bandipur
After spending about 45 minutes at a
dhaba
in Gundalpet,
it was around 6AM that we closed
upon Bandipur National Park. As morning sun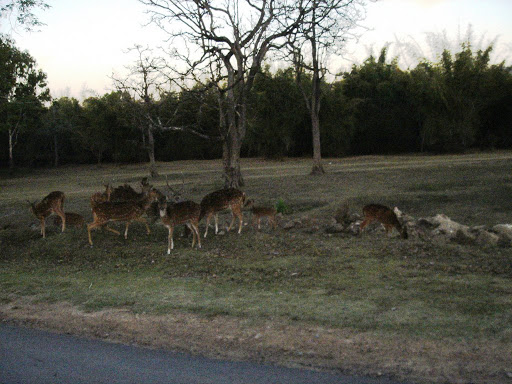 greeted us, we snaked
around the pot holes as Gopalaswami Betta disappeared on our right side. As we entere
d BNP, there w
as more
wild life in store for me than in my earlier
dedicated trip to the NP. I was however not knowing that the return journey would be even better.
Negotiating the 36 Hair-Pin Bends
As we crossed the Karnataka state border into
Mudumalai NP, we were greeted at the check post. Result – we wen
t ahead poorer by 10
bucks!
Around 5-6 kms ahead was the main Mudumalai Jn where the road forks into two- taking
right w
ill take
one to Gadalur.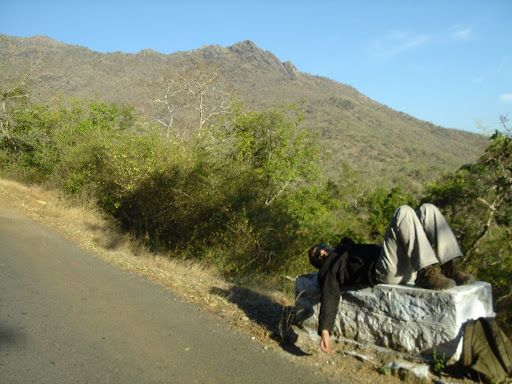 We went the other way, towards Kalahatti Ghats. This route is shorter (and better in terms of surface quality) than the former route by almost 38kms, more than 100% (Ooty is 74kms via Gudalur and 36kms via Kalahatti). T
he first 15kms after taking left were similar to the road in Bandipur, with the road meandering through the forest. If it were my first drive on this stretch, I would have wondered about when the actual accent would start; Ooty
is around 2000 meters above in terms of altitude compared to the base of Kalahatti Ghat.
This probably tells you something about the gradient
that was to follow. Azm
i was alre
ady getting a bit impatient when the climb finally begun.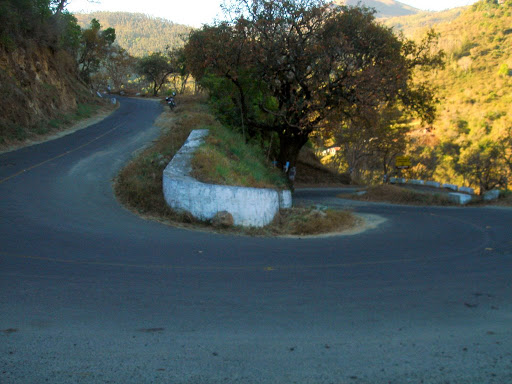 I was fully aware that this was his first 'drive through the night' trip on a bik
e and that he was really weary at this point of time. We had hardly negotiated the first few of the 36 hair-pin bends that we fund a culvert. He literally
jumped off the bike to occupy one of the sides as I pulled up. A clean flat surface with the sun showing down brightly was way to luring to be missed! We took another break at the 20th hair-pin, for which the air-cooled engine of our bike was more than happy.
As we neared Ooty, the climb had become so steep that I had to put the first gear as frequently as 5th on leveled ground. 12.5BHP of power was proving just adequate enough to pull our f
rames through!
Finally, Ooty
By the time we reached Ooty,
my pillion made a humble request
– "Can we take rest for a couple of hours before
proceeding any further?"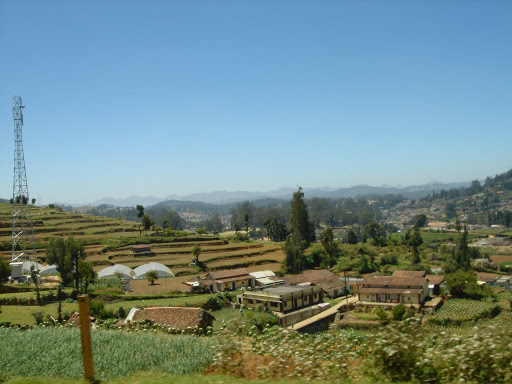 Request was granted, but not before stuffing ourselves with aalu and onion

parotas

! Once done, we took up a hotel room and hit
the sack straight away. The two hour doze was really helpful. We started the next phase of mission after checking out around 12:30pm.
Rendezvous with the
Baap
of all
Betta
s
As I took the pillion seat, I tried to make full use of it. The camera went clicking and clicking; a lot of good snaps would have come, but for the bad
roads to end them all as shaky as ever :(.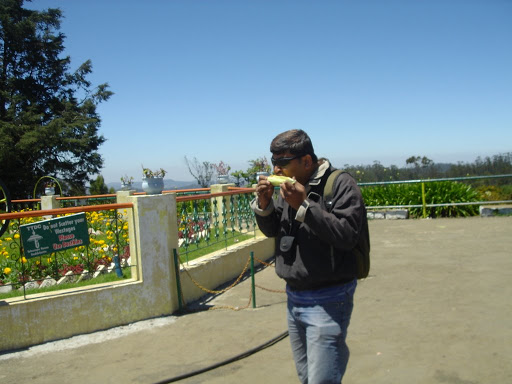 Unlike the last time I'd driven down to Ooty and seen only fog and cloud at view-points, this was quite different. Clear blue skies and light hew greeted as we climbed further towards the tallest peak in South India – Do
dda Betta.
The name has always brought the same q
uestion in mind – how come one of the most prominent features in Tamil Nadu,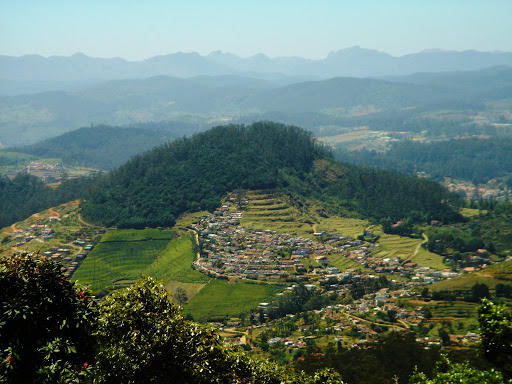 a state sometimes known for fundamental linguistics, was christened in
Kanadda – perhaps a true example of united India! As for the views, well, we had options in plenty. All around the peak
were marked areas to see the towns below – Ooty, Gudalur, Coonoor, Mettupalayam and Coimbatore to na
me a few. Icing on the cake was the baked corn and pineapple that we had, courtesy hawkers around the place. The good part was that the people were really cautious about not messing up the place by littering; presence of innumerous waste bins also helped a lot.
On the way to Coonoor
As we descended the roads from Dodda Betta and took turn towards Coonoor, the sight was not
exactly soothing to eyes, nor feelings welcomed by my bottom! The tar suddenly gave way to
mud and slush; boulders filled up the rest, all together, pretty painful. Thankfully, this road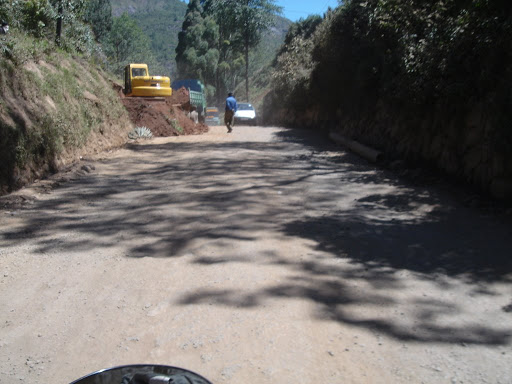 condition didn't last long and after a couple of kms, we found ourselves on good roads. As the road meandered down towards Coonoor, I was on constant look out for the Toy Train that I'd taken for this journey the last time that I was in this region. Though the whistl
e could be heard once, the train continued to elude me. It was only when we were nearing Aruvankadu, I realized my mistake - all the while I was trying to find the train down in the valley, while it was running parallel to us on the other side, about half a km up the valley slope. As we approached
Aruvankadu, the tummy started roaring louder than the bike; it was time to stop.
Saapadam
@
Aruvank
adu


The least we talk about the food,
the better! It was one of the most
ordinary chicken biryani that I ever had.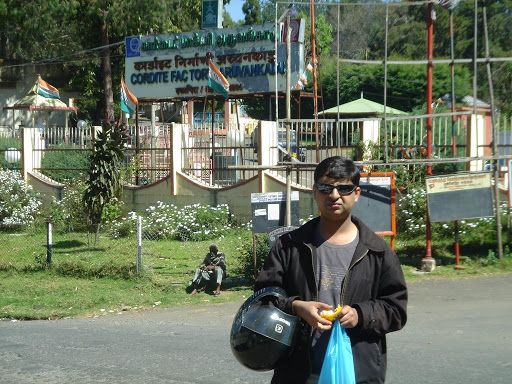 Add to that an 'extra helpful' man who was in a state of his own and a bit of bother!! All in all, a very forgettable experience :( It was time to turn back, and give Coonoor a miss for the time being - hoping that visiting this place would be an independent trip by itself.


Climbing down Kalahatti Ghats


As we hit Ooty back on our way, it really helped to go back to our breakfast hotel and help
ourselves with a cup of tea.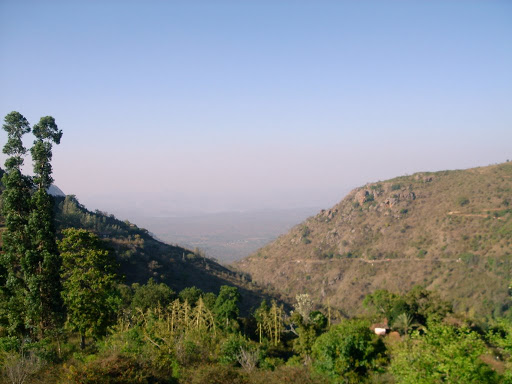 Also, there was boiled corn in offering on the other side of road. It was time that I took back the controls; not that Azmi could not drive down, i
t was the weight that needed to be handled while breaking on the way down hill. And some down hill it was - the engine roared in second gear almost all the time - breaks only being used intermittently to kill momentum. Still, the section was too good an experience to be missed. Azmi finally tried his hand after around three qua
rters of the ghats, and drove all the way till we hit the 'plains'.


Parting Show


As we stopped over at Mudumalai for tea and snacks break, we came across this all excited man who spoke very fast Tamil. All I could recognize out of speech was '

yana

'.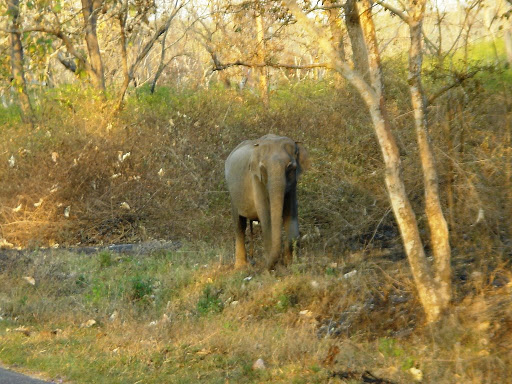 Azmi was a bit puzzled - he couldn't make head or tail of the lines spoken. "What is he talking about?" "He says that few elephants were sighted a few kms away." Probably the next thing both of us were thinking was only if we could get that lucky... (In my last dedicated trip to Bandipur, all I could find were deer, peacocks and wild buffalo) As we continued further, the gift (or rather gifts) was awaiting us - we came across 3 of them, and one was a tusker!


Juicy Gundalpet

As our bottoms hit the rock (read road in between Bandipur and Gundalpet), the juice shop
in Gundalpet was what we were really looking forward to. This was Azmi's discovery on his way to Calicut. It's opposite to the KSRTC bus stand,
in the basement of hotel Udupi Uphar (IIRC). Boy, this place rocked! The Fresh Lime with Soda gave Anand's (near PESIT, Bangalore) some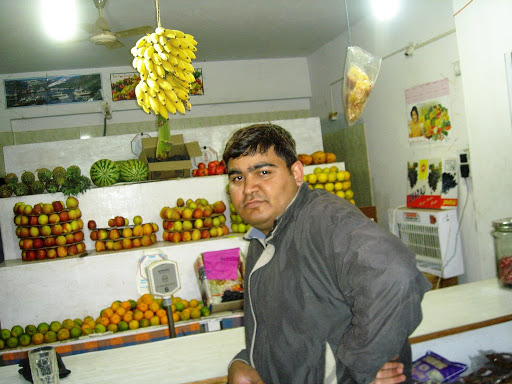 competition :) The next proper stop came only beyond Maddur. Shivalli, a restaurant next to Cafe Coffee Day, did not live up to its hype - may be it was end of business for them, but I found wanting... Still it did give my eyes some relief from those dreaded sand laden trucks. It was around 11:30 by the time we were close to our places. Once at Azmi's place, it was time to pick my stuff and my bike back. In exactly 24 hours, I was preparing to hit the sack, happy and satisfied to break my 6 month 'break'. As I was to find out later, this gave way to the first ever solo trip that I made on my bike, more than 5 years since I took Pulsar to road, to Chennai...